Pedregon Races to First Win of the Season, Vandergriff, Line, Phillips also Winners in Texas



 
Courtesy of NHRA Communications


Photo copyright 2011 Auto Imagery, Inc.


 




ENNIS, Texas --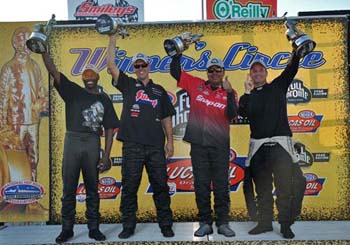 Phillips, Line, Pedregon and Vandergriff
Cruz Pedregon raced to his first win of the season and moved into the third spot in the Funny Car point standings as racing came to an end Sunday at the AAA Texas NHRA Fall Nationals at Texas Motorplex.   
Bob Vandergriff, Jason Line and Michael Phillips were also winners in their respective categories at the second of six races in the NHRA Full Throttle Countdown to the Championship, the six-race playoffs to determine the world championships.
Pedregon held off an impressive line-up of cars to reach the final round, driving his Snap-on Tools Toyota Camry past Todd Simpson, Bob Tasca and Melanie Troxel on his way to a final round matchup with Ron Capps. In the final Pedregon drove to an impressive 4.200 seconds at 302.48 mph past Capps to secure his first win of the season and 29th of his career. The win also propelled Pedregon from fourth to third in the point standings, just seven points behind leader Mike Neff with four races left in the season.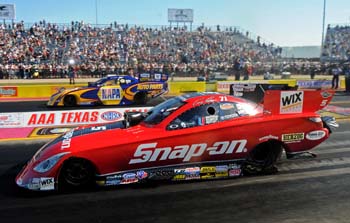 Pedregon vs. Capps
"The car was just so good all weekend," said Pedregon. "I think this is probably the best race car I've ever had, with the exception of one run. We slipped up in the semi's against Melanie. The track was hot, the hottest it'd been all weekend, and we got a little too aggressive with it. But other than that, the car was great, and I think I felt more pressure because we had such a great car. But it was great to win, finally."
Funny Car points leader Neff lost in the first round to second-place driver in the standings Matt Hagan. Hagan was unable to get around Melanie Troxel in the second round though and only four points separate first-place Neff from Hagan.
In Top Fuel, Vandergriff raced to his first win in his 14th final round appearance, ending the longest streak of final round appearances before a win in NHRA history. Vandergriff powered his C&J Energy Services dragster to a 4.243 at 238.44 to hold of hometown favorite Spencer Massey in the final round.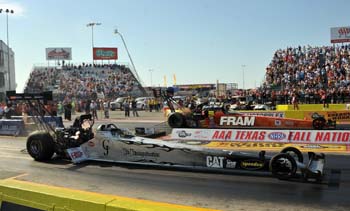 Vandergriff vs. Massey
"We've lost finals every way, and you begin to question it," said Vandergriff. "But I've got a great bunch of guys with me now, and I knew it was going to happen, I was just hoping it was this time. I don't think I could take another speech where I say, 'Well, it's all right,' because it's not all right. But it's great. I'm just a little overwhelmed right now."
Massey's final round appearance moved him to the top of the Top Fuel standings, just seven points ahead of second-place driver Antron Brown, who fell to Massey in the semifinal round of eliminations. Massey is the 41st different driver in NHRA history to lead the points in Top Fuel.
In a repeat matchup from the Pro Stock final round in Charlotte just one week previous Jason Line and Kurt Johnson met again in the finals, but this time it was Line who powered his Summit Racing Pontiac GXP to a 6.633 at 208.46 to get his fifth win of the season and 26th of his career. The win also helped strengthen Line's lead to 112 points over second-place driver and KB Racing teammate Greg Anderson, who lost in the first round.
"It was a huge day for us," said Line. "Right now, I guarantee you that there is no way that anybody can be happier than me right now. It's just not possible. It was a big day for us. The fact that we could actually get it done was amazing. I drove like garbage all day long. I was the worst I've driven all year. Finally, I managed to pull myself together for the final, the time that we needed it, and made a great run at the same time. It was just a really big day for us."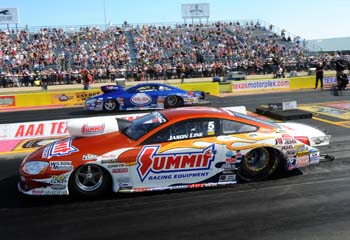 Line vs. Johnson
In Pro Stock Motorcycle, Phillips held off rookie rider and Mac Tools U.S. Nationals winner Hector Arana Jr. when he rode his Racers Edge Suzuki to a run of 6.979 at 194.96 to secure his first win in over a year and move up to the seventh spot in the point standings. Arana Jr. moved to the third spot in the standings with his runner-up finish to Phillips.
"Having my mother, Aline, here this weekend made the win real sweet," said Phillips. "I had talked to her on Monday about coming to the races, and at first she said it was too hot. Then on Friday morning, just before we were ready to run, she popped up at the race track. My mom made my weekend, even if we had not won. I'm still a 'Momma's Boy.'"
NHRA Full Throttle Drag Racing will return to action next week at the Auto-Plus® NHRA Nationals, Sept. 29-Oct. 2 at Maple Grove Raceway in Reading, Pa.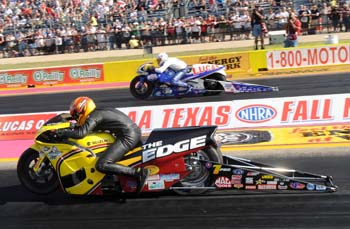 Phillips vs. Arana Jr.
Sunday's final results from the 26th annual AAA Texas NHRA Fall Nationals at Texas Motorplex. The race is the 18th of 22 in the NHRA Full Throttle Drag Racing Series-
Top Fuel -- Bob Vandergriff, 4.243 seconds, 239.44 mph  def. Spencer Massey, 5.200 seconds, 145.48 mph.
Funny Car -- Cruz Pedregon, Toyota Solara, 4.200, 302.48  def. Ron Capps, Dodge Charger, 4.270, 293.66.
Pro Stock -- Jason Line, Pontiac GXP, 6.633, 208.46  def. Kurt Johnson, GXP, 6.663, 207.85.
Pro Stock Motorcycle -- Michael Phillips, Suzuki, 6.979, 194.46  def. Hector Arana Jr, Buell, 7.010, 192.30.
Top Alcohol Dragster -- Chase Copeland, 5.344, 275.62  def. Aaron Tatum, 5.546, 257.43.
Top Alcohol Funny Car -- Tony Bartone, Ford Mustang, 5.638, 260.06  def. Roger Bateman, Mustang, 5.667, 254.14.
Competition Eliminator -- Bruno Massel, Chevy Cobalt, 7.898, 130.92  def. Clint Neff, '23-T Ford, foul.
Super Stock -- Jerry Emmons, Chevy Cavalier, 9.865, 132.33  def. Chris Chaney, Cavalier, 9.863, 130.75.
Stock Eliminator -- Gary Emmons, Pontiac Firebird, 10.774, 114.55  def. Slate Cummings, Firebird, 10.472, 124.98.
Super Comp -- Richard Pierson, Dragster, 8.909, 167.14  def. Michael Johnston, Dragster, 8.898, 169.47.
Super Gas -- Tommy Phillips, Chevy Corvette, 9.947, 152.80  def. Jay Peppler, Ford Probe, 9.978, 147.23.
Top Dragster -- Phil Unruh, Dragster, 6.518, 202.64  def. Allen Constantine, Dragster, 6.689, 196.42.